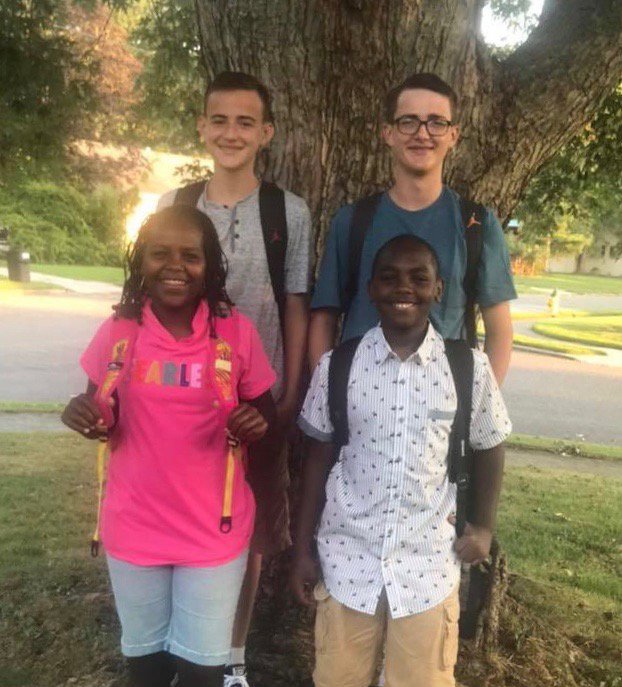 "Children are a gift from the LORD"
Psalm 127:3a (NLT2)
"Honor your father and mother. Then you will live a long, full life in the land the LORD your God is giving you."
Exodus 20:12 (NLT2)
"And you must commit yourselves wholeheartedly to these commands that I am giving you today. Repeat them again and again to your children. Talk about them when you are at home and when you are on the road, when you are going to bed and when you are getting up. Tie them to your hands and wear them on your forehead as reminders. Write them on the doorposts of your house and on your gates."
Deuteronomy 6:6-9 (NLT2)
"Children, obey your parents because you belong to the Lord, for this is the right thing to do. "Honor your father and mother." This is the first commandment with a promise: If you honor your father and mother, "things will go well for you, and you will have a long life on the earth."
Ephesians 6:1-3 (NLT2)
"Some Pharisees and teachers of religious law now arrived from Jerusalem to see Jesus. "Why do your disciples disobey our age-old tradition?" they demanded. "They ignore our tradition of ceremonial hand washing before they eat."
Matthew 15:1-3 (NLT2)
"Jesus replied, "And why do you, by your traditions, violate the direct commandments of God? For instance, God says, 'Honor your father and mother,' and 'Anyone who speaks disrespectfully of father or mother must be put to death.' But you say it is all right for people to say to their parents, 'Sorry, I can't help you. For I have vowed to give to God what I would have given to you.' In this way, you say they don't need to honor their parents. And so you cancel the word of God for the sake of your own tradition."
Matthew 15:3-6 (NLT2)
"Children who mistreat their father or chase away their mother are an embarrassment and a public disgrace."
Proverbs 19:26 (NLT2)
"Some people curse their father and do not thank their mother. They are pure in their own eyes, but they are filthy and unwashed."
Proverbs 30:11-12 (NLT2)
"The eye that mocks a father and despises a mother's instructions will be plucked out by ravens of the valley and eaten by vultures."
Proverbs 30:17 (NLT2)
"If you insult your father or mother, your light will be snuffed out in total darkness."
Proverbs 20:20 (NLT2)
"Fathers, do not provoke your children to anger by the way you treat them. Rather, bring them up with the discipline and instruction that comes from the Lord."
Ephesians 6:4 (NLT2)
"The godly walk with integrity; blessed are their children who follow them."
Proverbs 20:7 (NLT2)
REFLECT and CONFESS:
Have you sinned (or are you sinning) against your parents in some way?
Is there some rebellion, neglect, pride, or unforgiveness that you need to confess?
Are you being a hypocrite - expecting your kids to do what you won't/don't do?
Is your lack of integrity in some area robbing you and your family of the blessing of God?
Are your kids following your negative example into sin?
"If we claim we have no sin, we are only fooling ourselves and not living in the truth. But if we confess our sins to him, he is faithful and just to forgive us our sins and to cleanse us from all wickedness."
1 John 1:8-9 (NLT2)
"Direct your children onto the right path, and when they are older, they will not leave it."
Proverbs 22:6 (NLT2)
"Foolish children bring grief to their father and bitterness to the one who gave them birth."
Proverbs 17:25 (NLT2)
"Discipline your children while there is hope. Otherwise you will ruin their lives."
Proverbs 19:18 (NLT2)
"Discipline your children, and they will give you peace of mind and will make your heart glad."
Proverbs 29:17 (NLT2)
WHAT IS BIBLICAL DISCIPLINE?
1 It is good for us and those that we love
"To learn, you must love discipline; it is stupid to hate correction."
Proverbs 12:1 (NLT2)
2 It is evidence of love and it is loving
"My child, don't reject the LORD's discipline, and don't be upset when he corrects you. For
the LORD corrects those he loves, just as a father corrects a child in whom he
delights."
Proverbs 3:11-12 (NLT2)
DISCIPLINE = LOVE.
"My child, don't make light of the LORD's discipline, and don't give up when he corrects you. For the LORD disciplines those he loves, and he punishes each one he accepts as his child."
As you endure this divine discipline, remember that God is treating you as his own children. Who ever heard of a child who is never disciplined by its father? If God doesn't discipline you as he does all of his children, it means that you are illegitimate and are not really his children at all.
Since we respected our earthly fathers who disciplined us, shouldn't we submit even more to the discipline of the Father of our spirits, and live forever? For our earthly fathers disciplined us for a few years, doing the best they knew how. But God's discipline is always good for us, so that we might share in his holiness.
No discipline is enjoyable while it is happening—it's painful! But afterward there will be a peaceful harvest of right living for those who are trained in this way."
Hebrews 12:5b-11 (NLT2)
"Only a fool despises a parent's discipline; whoever learns from correction is wise."
Proverbs 15:5 (NLT2)
3 It may involve corporal punishment
"Don't fail to discipline your children. They won't die if you spank them. Physical
discipline may well save them from death."
Proverbs 23:13-14 (NLT2)
"A youngster's heart is filled with foolishness, but physical discipline will drive it far away."
Proverbs 22:15 (NLT2)
"Those who spare the rod of discipline hate [spoil] their children. Those who love their children care enough to discipline them."
Proverbs 13:24 (NLT2)
4 It is temporary pain for a God-honoring purpose.
"I am not sorry that I sent that severe letter to you, though I was sorry at first, for I know it was painful to you for a little while. Now I am glad I sent it, not because it hurt you, but because the pain caused you to repent and change your ways. It was the kind of sorrow God wants his people to have, so you were not harmed by us in any way. For the kind of sorrow God wants us to experience leads us away from sin and results in salvation. There's no regret for that kind of sorrow. But worldly sorrow, which lacks repentance, results in spiritual death."
2 Corinthians 7:8-10 (NLT2)