ONEIGHTY SUMMER SCHEDULE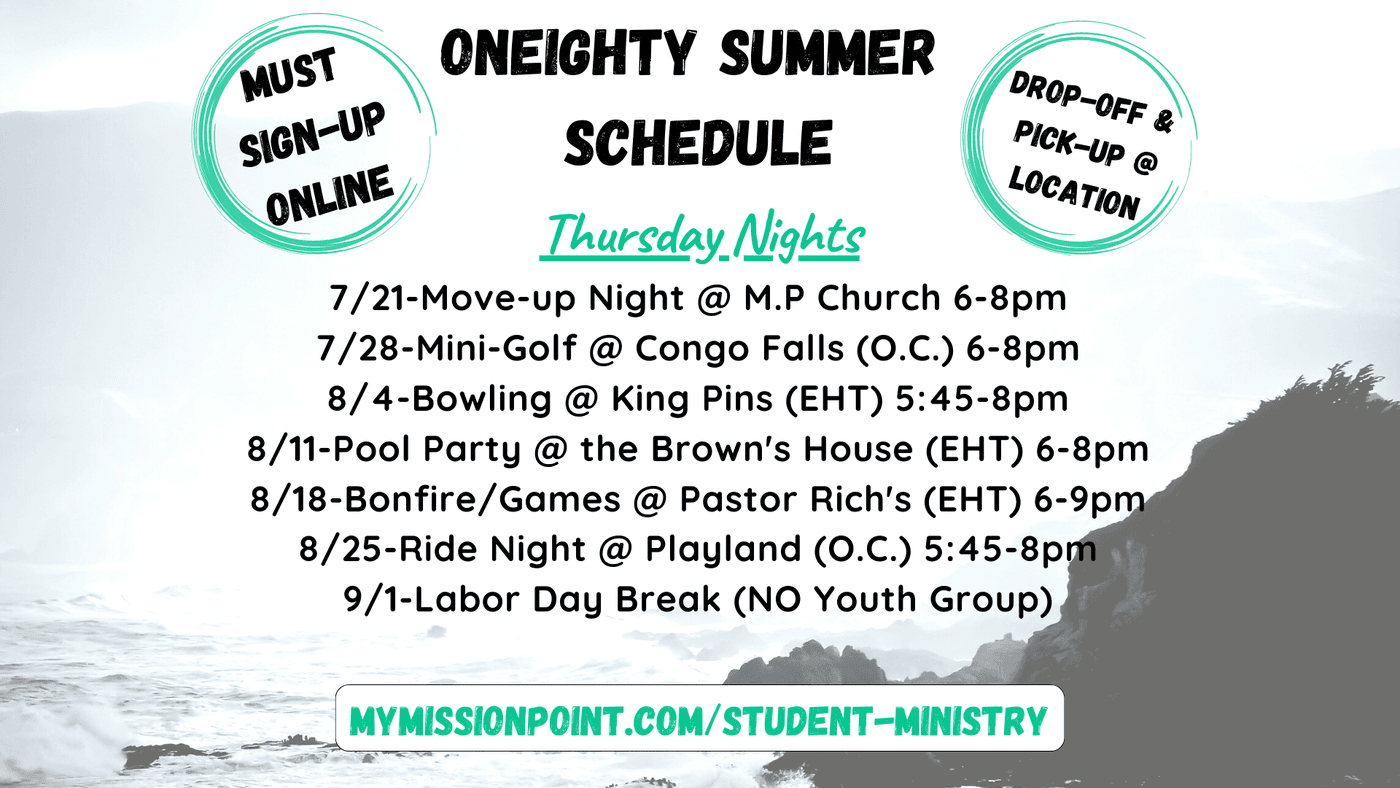 ONEIGHTY's summer is a packed one! We invite all members of our student ministry out to all of our summer events:
7/21 Move Up Night at Mission Point Church, 6-8PM
7/28 Mini Golf at Congo Falls (OC), 6-8PM ($10)
8/4 Bowling at King Pin (EHT), 5:45-8PM ($10)
8/11 Pool Party at the Brown's House (EHT), 6-8PM
8/18 Bonfire and Games at Pastor Rich's House (EHT), 6-9PM
8/25 Ride Night at Playland (OC) 5:45-8PM ($10)
Please check the boxes for all events you would like to attend and fill out the information below!
Jr & Sr High meet on Thursdays from 6-8 PM
Our mission is to help teens:
CONNECT in authentic relationships
GROW in Christ
REACH friends, family and the world for Christ
We love to have fun, hangout, eat food and learn from God's Word. Students (6th-12th grade) meet on
a weekly basis to connect in authentic relationships and grow in their relationship with Jesus.
We believe in equipping and empowering young people to reach their friends, family and world for Christ. In addition to our weekly gatherings,
Oneighty hosts monthly events and fun activities.
Pastor Chris Jones
Associate Pastor of Family Ministries
Jr. & Sr High meet on Thursdays from 6-8 PM
Jr. High (6-8th grade) also meet on Sunday mornings in Room 2 (after our worship time at our 10 am Service)
Updates will be provided through the "Remind" texts and Instagram. To sign up to receive "Remind" notifications click HERE