WINTER CAMP IS COMING!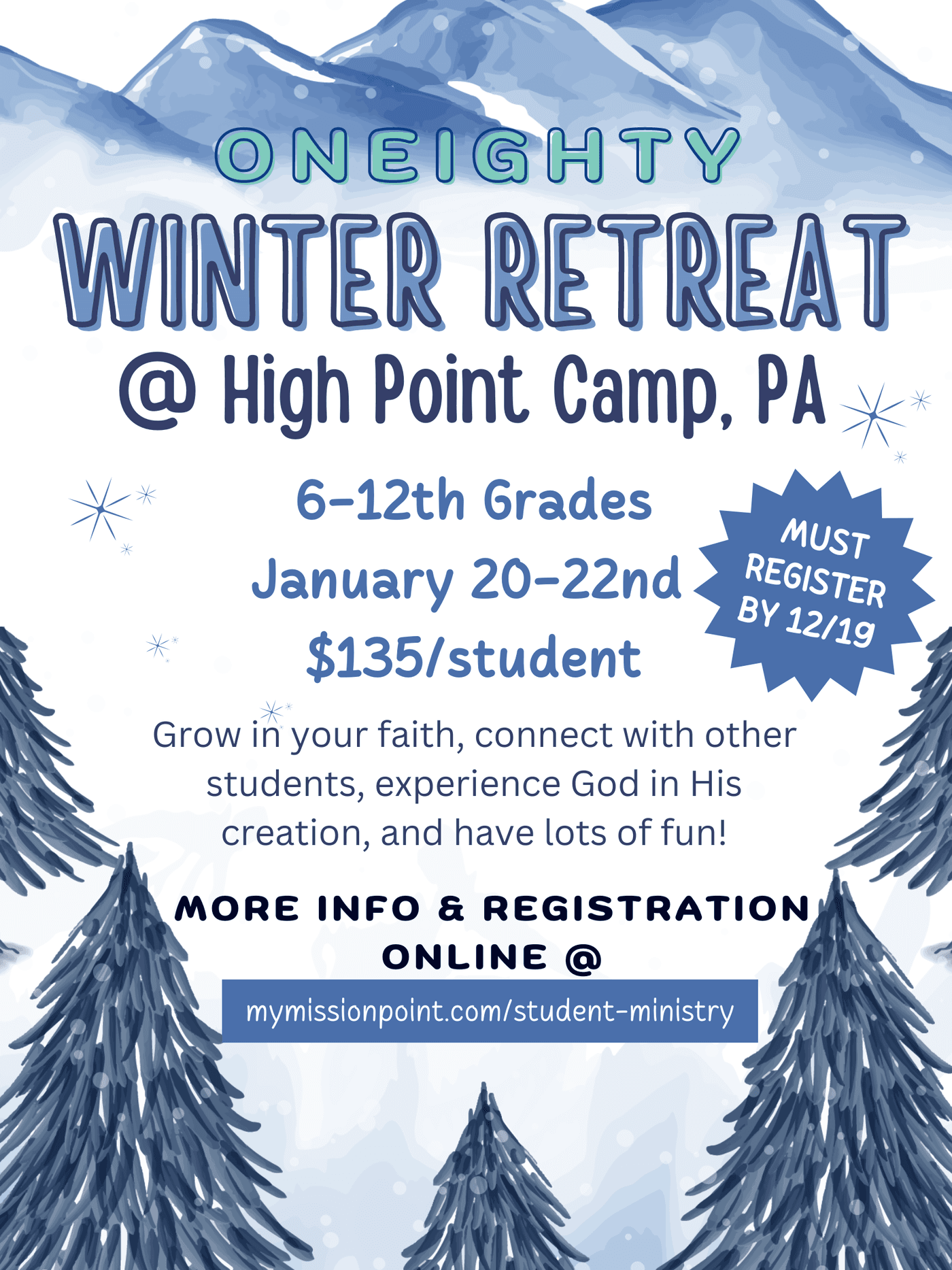 Winter Retreat is the perfect way to grow in your faith, connect with other students and experience God in His creation. Students will hear from engaging speakers and teachings. They'll also enjoy fun winter sports and a variety of indoor activities including black light dodgeball, 9-square and more! Weather permitting, the camp offers snow tubing!
Who: 6-12th Grades
When: January 20-22nd *Must register by Dec 19th
How Much: $135 ($115 Retreat cost + $20 food/transportation)
**All registration payments made directly to High Point Camp. Bring the $20 food & transportation the day of camp!
High Point Camp
200 Chapel Road
Birdsboro, PA 19508
More Info:
Please register ASAP because spots are filling up fast!
Create an account
Fill out the registration forms and Choose Retreat #1 (January 20-22, 2023)
Use "Mission Point Church" in your registration.
You will be prompted to pay your non-refundable $50 deposit.
Submit your registration
Middle School (6-8th grades) Thursday night from 6-8pm, High School (9-12th grades) Sunday night from 6-8pm
Our mission is to help teens:
CONNECT in authentic relationships
GROW in Christ
REACH friends, family and the world for Christ
We love to have fun, hangout, eat food and learn from God's Word. Students (6th-12th grade) meet on
a weekly basis to connect in authentic relationships and grow in their relationship with Jesus.
We believe in equipping and empowering young people to reach their friends, family and world for Christ. In addition to our weekly gatherings,
ONEIGHTY hosts monthly events and fun activities.
Pastor Chris Jones
Associate Pastor of Family Ministries
Middle School (6-8th grades) Thursday night from 6-8pm
High School (9-12th grades) Sunday night from 6-8pm
Updates will be provided through the "Remind" texts and Instagram. To sign up to receive "Remind" notifications click HERE