THE STUDY: "The Gospel Primer" by Caesar Kalinowski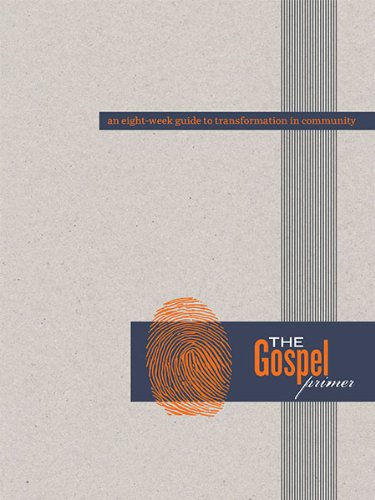 The Gospel Primer: 8 Weeks to Transformation in Community
Many in our churches have spent years listening to sermons, studying theology and reading the Word of God, yet still feel intimidated or unable to naturally express the good news of the Gospel into normal life, conversations, and circumstances. We will never experience gospel-transformation and missional movement unless this changes.
The Gospel Primer is designed to help any group of people cultivate a practical understanding of the gospel and grow in gospel fluency––the ability to proclaim and demonstrate the gospel in absolutely every area of life.
As church leaders around the world have started forming new mission-focused, incarnational communities, they have consistently discovered that they need a greater grasp of the transforming Gospel of the Kingdom. When we get this right, everything else changes. Life together in community becomes possible–not out of obligation–but out of a gratefulness and confidence that the Gospel alone can give. Speaking the truth in love is no longer a scary thing, sharing our faith doesn't have to weird us out; the Gospel truly is transformational good news!
Together, over 8 weeks, The Gospel Primer will help you creatively learn: What is the Gospel? We'll look at The Story of God that illustrates the gospel throughout all of scripture. You'll learn how to form and tell your personal 'My Gospel Story' in a natural, yet powerful way. We'll also look at how the Gospel has actually given us a new identity in Christ and how to live out the truth of this gospel identity in the normal rhythms of everyday life. We know of no other resource that can help you gain such a useable understanding and practice of the Gospel in such a short period of time as The Gospel Primer.
BOOKS WILL BE AVAILABLE FOR PURCHASE ON SUNDAY OCTOBER 11TH AT $16 EACH
The reading begins on Sunday, October 4th!!!! Here is a link to chapter one if you have not been able to purchase a book yet.
******************************
THE SERMON SERIES: "The Gospel"
Pastor Rich will take 8 weeks beginning on October 11th to look at:
What Is The Gospel?
The Story
Your Gospel Story
Gospel Listening
Four Eternal Truths
Two Lenses
Gospel Identity
Gospel Rhythms